Four days without meetings.
Every week.
It is Monday and you haven't reached us? We beg your pardon, but: We are not here for you today in order to be here for you.
If you are in a rush: Please leave a message on our answering machine on +49 6151 850 798 0 or write us an e-mail to jederzeit@qundg.de. We will get back to you starting from Tuesday morning.
Why we do it, in short
Every Monday, we unplug our phones and leave the mailboxes closed. Any internal meetings are advanced to this day so that we can stay focused at work during the rest of the week. We are not there for you on Mondays because that way, you get more out of us Tuesday through Friday.
Why we do it, the background story
We have always been big advocates of barcamps. The hierarchy-free but very time-structured barcamp principle has helped us in many ways: We have used it to improve the internal communication with our clients, we have thrown weekend-filling hackathons and every year, we organise our internal self-improvement camp which we call quämp.
But how about doing a barcamp every week? At the last quämp, this was a possible solution for a problem we had found in our culture map: The flexibility that our startup culture enables creates a complicated network of availabilities and meetings, which are uncomfortably distributed to the team and through the days. If we could only run the internal consultation more efficiently, it would be a great achievement.
We call it: Doneday.
Because from an "Oh, it is already Monday, until Wednesday we should, ah okay, let's make it Thursday …", we have created a Monday that makes our workflow go easy on cost, clients and staff – put simply, it helps us get things done the rest of the week.
Side effects transparency and participation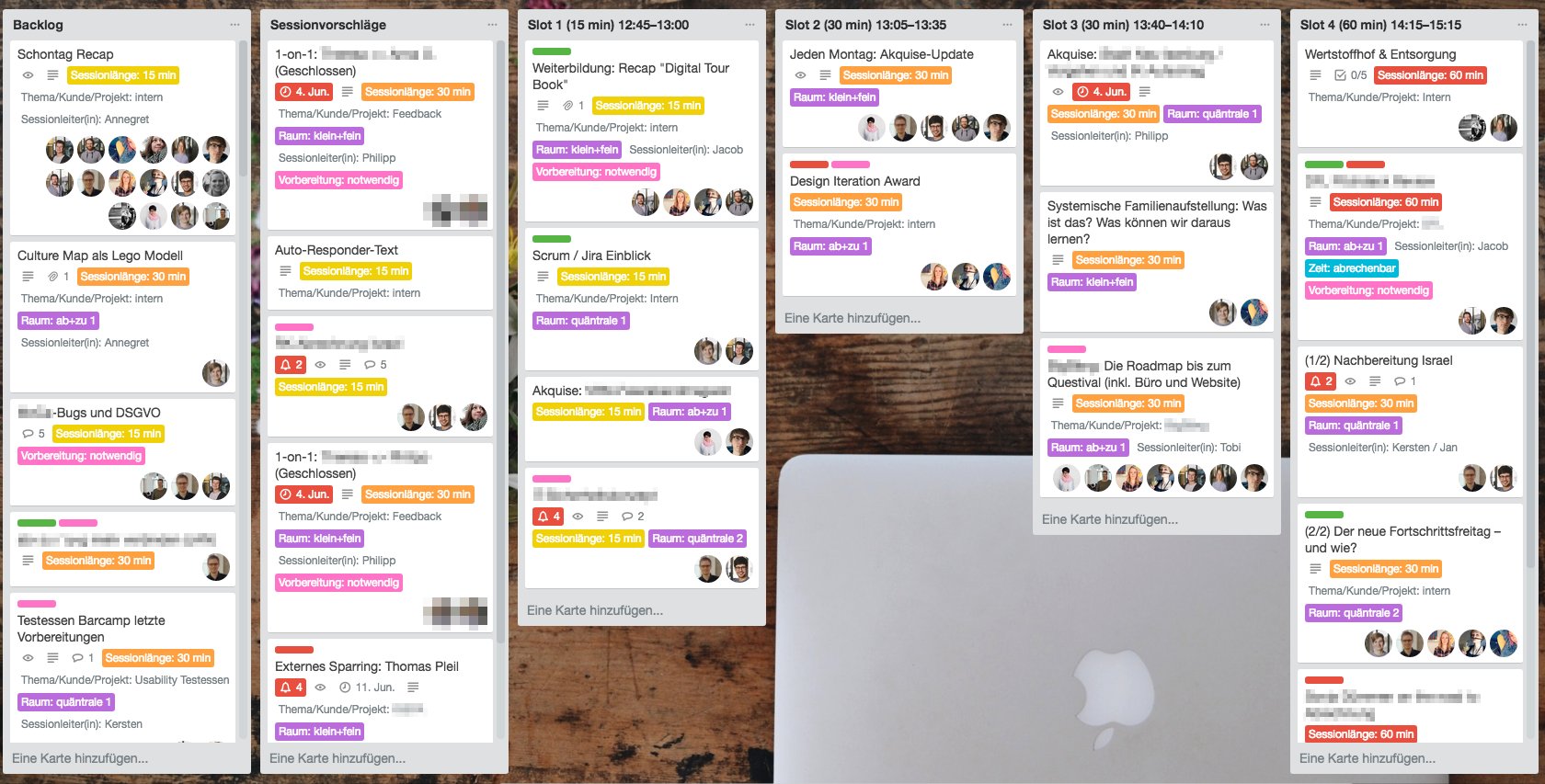 In contrast to classic barcamps, we experiment with a mix of short and long sessions: During the morning, we can accommodate as many operative tight-scheduled arrangements as possible for different projects with 15-minute sessions. The afternoon sessions are more intense sessions of 30 and 60 minutes length.
The barcamp can unfold its full hierarchy-reducing effect here.
Possible session types are:
Internal and external

sparrings

New request – we need a team

O

n-the-job

training

Showcase – for which projects can we celebrate our accomplishments ?

One-on-ones: exchange in pairs

Retrospectives
Thus, the Doneday is only seemingly a tribute to the taskwork. Rather, it is a tool of transparency and participation: Every week anew, we can see what we are working on as a team in the central Trello Board – and we can even put ourselves into the occasional session that has not been part of our field of expertise so far.
No experiment without feedback

The distinct separation of morning and afternoon regarding content is a direct product of weekly reflection. Since we did not accomplish enough project arrangements in an early Doneday version in the morning, they were moved to the afternoon – and pushed out the less urgent (but: important) topics. As with any of our New Work experiments, at our Doneday the regular retrospective is also important for the satisfaction. The Doneday not only is, it evolves.
A timetable without hours

During the whole Doneday, every Quäntchen will be accompanied by their ever-expanding timetable. Blank in the morning, it fills itself throughout the day with the projects for the week. Only from afar it looks like the slip of paper that hangs on the refrigerator at home. In fact, it explicitly goes without hourly and minute units – a first step to banish time units completely from our planning and calculation. We roughly distribute our task packages collected during the Doneday over the rest of the week – and ask ourselves at the end of the day whose plan is brimming and who can take over something.
If you look closely, you will find plenty of space on our timetables for our customers and project teams: for telephone calls, video conferences and wild workshops.

Are you interested in establishing the Doneday or other start-up culture methods yourself? Then our Newworkshop might be just right for you. Or you can talk to us. Preferably from Tuesday.
Hier gibt's noch
mehr Lesestoff
Hier findest du unsere neusten Posts.